Chiropractic Testimonials
Hockey player scores with Chiropractic
Chiropractic techniques are proving to be effective in treating sports injuries. Former NHLer Gary Roberts would agree.
After almost a decade playing in the National Hockey League, Gary Roberts feared that his days as a professional athlete were finished.
Thirty years old at the time and a left winger for the Calgary Flames, Roberts suffered a neck injury that left him with severe nerve damage and numbness in his arms. Repeated surgeries and rehab had little effect.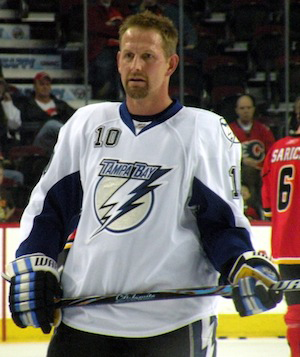 "I couldn't hold a steak knife to cut my food," he recalls. "My career was over. I was a pretty lost soul."
But then, after a visit to a sports chiropractor in 1996 to relieve stress and reduce scar tissue in his upper spine and neck, Roberts regained his strength and mobility. He returned to the ice to play professional hockey for another 13 years.
"It saved my life," says Roberts, who eventually retired from the NHL four years ago.
"My first visit was five years ago. My right knee and ankle had been swollen for over two years. My family doctor kept sending me for tests, but no one knew why my right leg was swollen. After approximately two months of Chiropractic treatments, the swelling had decreased substantially and remains that way today."
- Gary Roberts
---
A Stronger Back Through Chiropractic
"I am a skeptic at heart, and I have to admit that I was hesitant to seek chiropractic help. But after almost three years of suffering daily and refusing to consider back surgery as an option, I turned to Chiropractic. The pain I had begun to experience in my wrists is gone and my daily dosage of medication has become unnecessary. Now I feel confident that my commitment to my health and support by chiropractic will make me more comfortable, stronger and healthier."
- Anonymous
---
Small Adjustments for Pain Relief
"For a number of years, I had been bothered by back and arthritic hip pain. Then the pain became acute. Doctors offered only surgery or heavy painkillers. I was referred by an acquaintance to Chiropractic. After a series of adjustments, I experienced immediate relief and have continued to improve."
- Anonymous
OFFICE HOURS
---
Monday
6:30am - 12:00pm
3:00pm - 7:00pm
---
Tuesday
6:30am - 12:00pm
---
Wednesday
6:30am - 12:00pm
3:00pm - 7:00pm
---
Thursday
6:30am - 12:00pm
---
Friday
6:30am - 12:00pm
3:00pm - 7:00pm
---
Saturday & Sunday
Closed
The Chiropractic & Sports Injuries Centre of Georgetown
**Plently of Parking in the Back**